Samson Concert 288 All-In-One Dual Channel Wireless Microphone System - SWC288ALL

Samson Concert 288 All-In-One Dual Channel Wireless Microphone System - SWC288ALL
SWC288ALL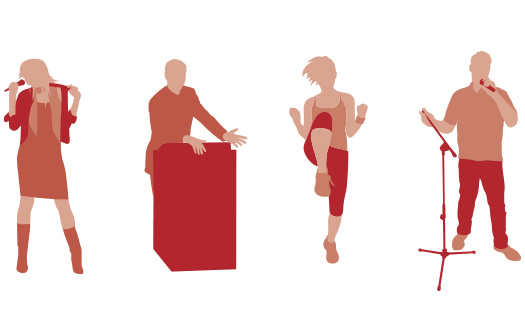 Take The Worry Out Of Wireless.
Samson takes the worry out of wireless with the Concert 288 All-In-One Wireless System. Offering easy setup, flawless operation and premium sound, it's the ideal high-performance UHF wireless solution for vocal performances, presentations, Q&A sessions, house of worship, educational applications and more where two users are needed.
The dual-channel Concert 288 All-In-One allows for up to 12 systems (24 performers) to operate simultaneously (region dependent). The Concert 288 All-In-One gives both performers an impressive 300' range of wireless operation between the transmitters and receiver, making the system ideal for large stages and crowd participation. To ensure interference-free performance, the Concert 288 All-In-One features a true diversity design. If a drop out does occur, the receiver's tone key triggers an Auto Mute function to eliminate any background noise until the signal is restored.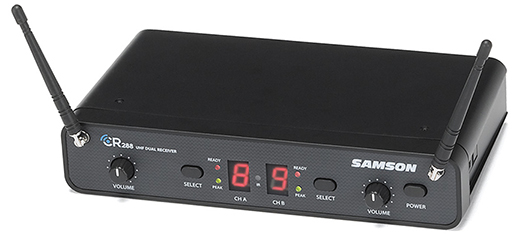 Featuring a user-friendly front panel, the CR288 Wireless Receiver provides the system with fast and easy setup. To find your optimal channel, the CR288 provides two Select buttons for auto syncing the receiver and transmitter channels via an infrared signal. The panel also contains a dual 7-segment LED for the operating channels, two Volume knobs, two tuned antennas, as well as Ready and Peak indicators for optimal functionality and monitoring. The back of the receiver features two separate balanced XLR outputs for routing signals to two separate mixer channels, as well as a 1/4" unbalanced mix output that condense both signals to a single channel for a direct connection into a PA speaker.
The Concert 288 All-In-One features a CH288 Handheld Transmitter with a Q6 Dynamic Microphone capsule, as well as a CB288 Beltpack Transmitter. To pair with the CB288, system also includes both an LM5 Lavalier Microphone and an HS5 Headset Microphone (both with locking connectors). These mic options bring maximum versatility to any dual-user application, particularly duet performances, as well as audience participation and interview situations. The transmitters, which can operate for up to eight hours on two AA batteries each, are engineered to the finest detail to provide the ultimate in sound reproduction.
With Samson's Concert 288 All-In-One Wireless System, advanced technology and total versatility combine to provide high-quality wireless performance wherever singers, presenters, educators and others need it.
Features
Concert 288 All-In-One System
Dual-channel, high-performance UHF wireless system
1/4" audio cable, AC adapter and rackmount kit included
CR288 Wireless Receiver
Multiple frequency options for interference-free performance in any environment
Up to 12 systems can be operated simultaneously (region dependent)
Separate Volume controls for each wireless signal
Dual balanced XLR outputs for routing signals to two separate mixer channels
1/4" unbalanced mix output to combine signals to one output channel
CH288 Handheld Transmitter
Q6 Dynamic Microphone capsules
Offers up to eight hours of battery life using two AA batteries
300' operating range
CB288 Beltpack Transmitter
LM5 Lavalier Microphone with locking connector
HS5 Headset Microphone with locking connector
Offers up to eight hours of battery life using two AA batteries
300' operating range